Radio Eyes Help
FITS to RET File Conversion
The FITS format is widely used to store astronomical images and other data. Radio Eyes can use data stored in this format by the SkyView internet site to produce background temperature files (.RET) that reference particular points on the sky to the corresponding data in the FITS file. When you move your mouse across the sky map in Radio Eyes, using the default 408 Mhz background you will see various values appear in the box labeled T Kelvins at the bottom of the window. These values are derived from the RET file for the background. RET files are not mandatory for a given background image file, but when they exist they must be named with the first 6 characters of the image file name (or vise versa).
Before you attempt producing an RET file, make sure you back up any files that you intend to replace!
Access the conversion tool from the main window menu under Tools / Data File Tools / Convert SkyView FITS to RET File. Before you begin the conversion however, you must first have the appropriate files on which to perform the conversion. A convenient button on the converter panel will open an Internet Explorer browser to the appropriate page of the SkyView website. If this does not work on your computer you can use whatever browser you have to go to http://skyview.gsfc.nasa.gov/ . Once at the intro screen to SkyView, click on Advanced Interface. This brings up a rather complex list of options from which to choose. In order to produce a FITS and image (GIF) file that will properly convert for Radio Eyes, you must use a specific set of parameters!
Coords: 12 0 0, 0
Coordinates: Equatorial
Projection: Rectangular
Image Size pixels: X = 720 Y = 360
Image Size degrees: 360
Equinox: 2000
A reminder of these parameters is provided on the converter panel. Beyond these parameters, however, you have many options that affect the content of the FITS and GIF files produced by SkyView. A number of surveys are available covering a variety of wavelengths. Generally you would select a survey from the Radio category, however, there is nothing to prevent you from using other types of surveys that you would like to compare with the radio sky. Note that most surveys do not include the entire sky. Some combinations seem to just hang the SkyView utility and no files are returned. I cannot help you troubleshoot what happens on the SkyView website.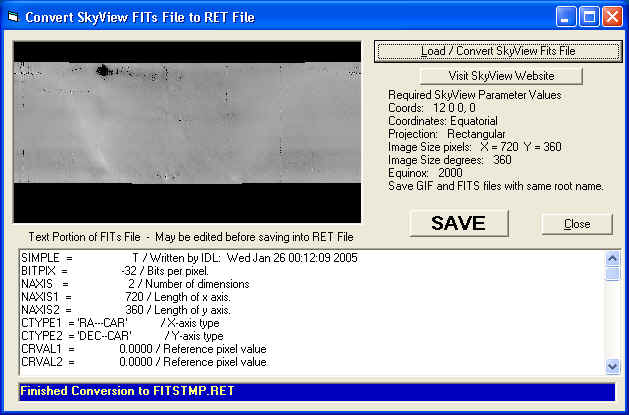 If after submitting your request, SkyView successfully returns and image and FITS file, you should then save these files to a safe place on your computer. Remember these files must contain the same first six characters in their names so that Radio Eyes can identify their relationship. To save the GIF File you may have to right click in your browser window on the image and select "Save Image As". Once saved, load the FITS file into the converter panel using the button at the upper right.
Note: There seems to be a limited number of the radio backgrounds that can be imported this way. Later tools may be more flexible.