Radio-SkyPipe Help
Using the UDS Hub
A User Data Source or UDS is a program that allows you to connect just about any data generating device into Radio-SkyPipe. A UDS Hub allows you to combine the outputs of a number of UDS programs into a single data stream that can be sent to a running copy of Radio-SkyPipe (Pro.). The data from the multiple UDS's can then appear together on a single chart collected at a single point. The graphic below illustrates the connections between external UDS's, the UDS Hub, and finally a copy of Radio-SkyPipe.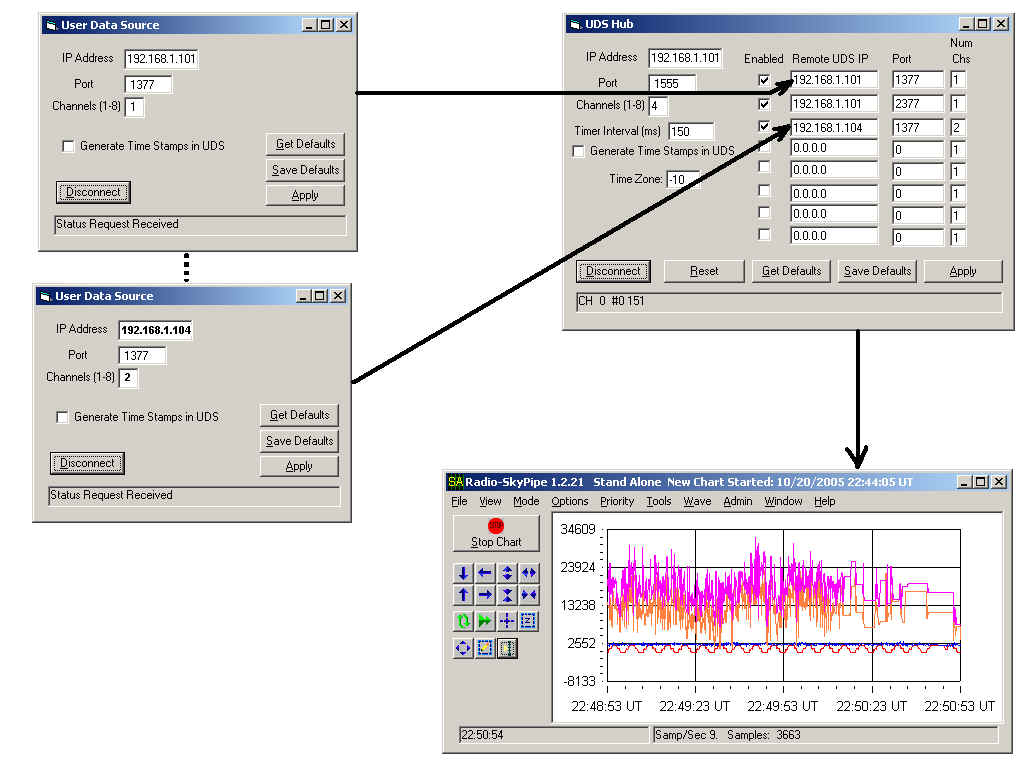 Configuring all of these items to work together is not trivial and must be done carefully.
Write down the IP address and port used by each UDS. If two UDS's occur on the same PC, the must have different port numbers! Also note the number of channels that each UDS uses. Remember the copy of Radio-SkyPipe to which all of the data is eventually directed is limited to 8 channels.
Open up the UDS Hub program. This does not have to be on the same computer as Radio-SkyPipe but it must be reachable via a network. Enter the IP address of the UDS Hub PC in the upper left. Enter a Port number that SkyPipe will use to contact the UDS Hub. The columns on the left refer to UDS devices that you wish the Hub to connect to. Enter the IP addresses, Ports, and number of channels corresponding to each UDS. The UDS will be ignored if the Enable checkbox is not checked.
Select a timer interval for the Hub if you want the hub to Push data to SkyPipe. If the Hub is to generate timestamps, it is important to set the time zone. Save your settings. Now click the Apply button of the Hub. If all of the UDS's have been configured correctly and are running you should see the channel numbers and data values arriving from the UDS's changing in the Hub status bar.
Now configure Radio-SkyPipe to talk to the Hub. You do this the same way you configure SkyPipe to talk to any UDS. Yes, SkyPipe thinks the Hub is just a UDS. I suggest you Poll for data from the Hub and that you do not try to automatically start the Hub. In addition to the UDS configuration don't forget to set the channels data sources in SkyPipe to correspond to UDS CH1, UDS CH2, etc.
Finally try starting a chart in Radio-SkyPipe.
If you don't have a copy of the UDS Hub, you can obtain it here.
Help Index | Radio-Sky Publishing Home