Radio-SkyPipe Help
Radio-SkyPipe Input Sound Mixer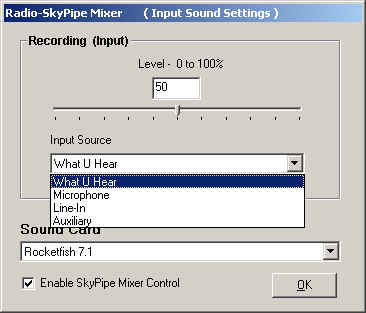 Sound input to the computer must be directed to the software that uses it. A mixer application allows you to select sources and destinations for sound data. Windows has its own mixer application and many soundcards and sound applications contain their own versions. The Radio-SkyPipe Input Sound Mixer only operates on incoming sound. It does not address output switching of the sound; muting, speaker volume, speaker balance, etc. Very simply this mixer allows you to select which input source Radio-SkyPipe will take its data from. In addition, the mixer sets the level at which the sound is input (think of it as an incoming volume control).
Radio-SkyPipe's mixer panel provides a way to preserve these important mixer settings between observations. The danger of not using the Radio-SkyPipe Input Sound Mixer is that some other program will change these settings and your observations will lose their important link to your data source.
To use this utility, select Tools / Mixer. Select the sound card that you want to use from the Sound Card drop-down list. A separate set of mixer settings is kept in the registry for each sound card that you use. Make sure the listed sound device is the one you need. Select the sound source from the Input Source drop-down list. The line input and microphone refer to physical connections to your computers sound card. Other options must refer to sound that arrives from other sources such as streaming audio or the playing of wave files. Usually one or both of these internal mixer sources is available from the sound card but there is no strong standard as to what options will be provided.
After selecting the appropriate input, you can adjust the input level from 0 to 100%. This may be done while a chart is running to obtain the desired level.
Finally, check the Enable Radio-SkyPipe Mixer Control box to make its use automatic.
Return to Radio SkyPipe Help Contents