Radio-SkyPipe Help
Printing a strip chart
You can send a copy of a strip chart to your printer. Simply select File/Print from the main page menu and the following dialog box will appear: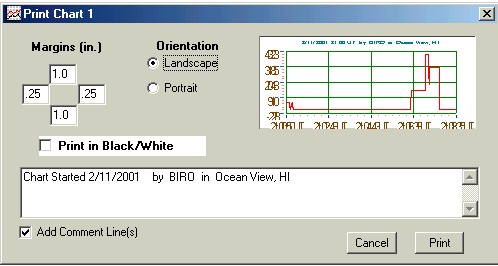 Margins
Margins may be established by entering the desired values in inches in the four boxes appearing under the Margins (in.) heading. The position of the boxes corresponds to the page margin position.
Orientation
Select either Landscape or Portrait.
Print in Black/White
Checking this box can save you lots of ink if you are using colored backgrounds on your strip chart. If selected the chart will be printed as black lines on a white background.
Add Comment Line(s)
If selected the text entered in the bottom text box will be printed below the chart on the page.
Use the Print button to send to the printer or Cancel to abort.