Radio-SkyPipe Help
Observer Log
(Pro Edition Only)
The observer log is a utility that allows you to make notes about observations without leaving Radio-SkyPipe. Beginning with Radio-SkyPipe 2.0 you can now include snapshots of charts within the observer log if you elect to save the log using the RTF file extension. RTF files are readable by Microsoft Word and other other programs. Every effort has been made to make the observer log as automated as possible so that you spend less time typing and more time observing.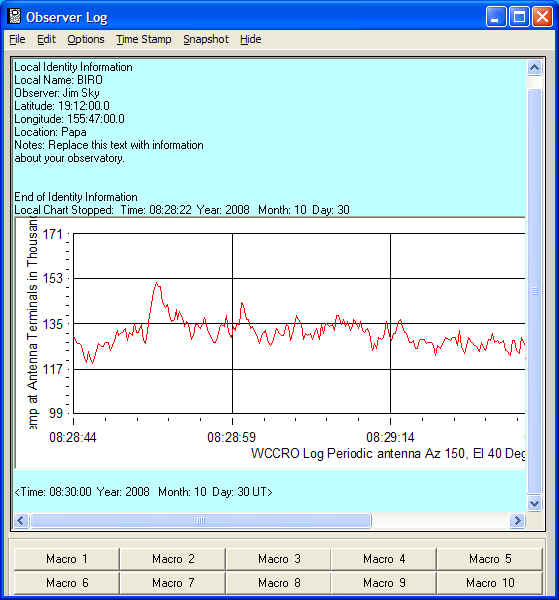 The observer log can be made visible by click View / Observer Log or pressing Ctrl-L on the keyboard at any time. A separate observer log will be created if the same procedure is followed for the second client window. The window is resizable.
Logs are saved as text files in a Default Observer Log Directory selected under Options on the Observer Log panel.
Macro Buttons
The observer log has 10 macro buttons which may be used for adding text to the log with a button click. Configure the macro buttons by right clicking on one of the buttons or selecting Configure Macro Buttons under Options.
Once the Observer Log Macros screen appears, you may modify button captions and the text produced by the button in the appropriate boxes. Adding a tilde ~ to the end of the macro text induces a timestamp whenever the macro is used. You may also load and save observer log macro files (*.som) using this panel.
Automated Log Entries
You may add several types of entries to the observer log automatically. Under Options, select the Automated Entries item.
This panel shows the various options that can be automatically entered. Don't forget to press the Save as Defaults button if you want your selections to be automatically loaded the next time you start R-SP.
You may initiate a timestamp at any time clicking the Timestamp menu item at the top of the Observer Log Panel. You might want to do this when you add new notes to the log to note specific events.
You may grab a image of your current chart by clicking the Snapshot menu item.
Typical editing functions which utilize the Windows system clipboard are available under the Edit menu Item.
Return to Radio SkyPipe Help Contents